Wilson Native Was POW at Andersonville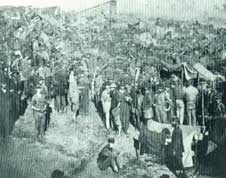 The history of Niagara County is filled with many famous and infamous characters. There are many who lived and died whose stories are lesser-known or not known at all. Ira S. Pettit has one of those stories. A twenty-year-old farmer's son living on Maple Road in Wilson when the Civil War broke out in 1861, Ira started a diary in 1862 that recorded everyday farm life in Niagara County in the mid 19th century. He wrote of "bucking wood," "choreing" and "buchering." The weather, then as now, was a noteworthy event. Long winter nights were filled with visiting, attending lectures and concerts, and reading. He also enjoyed occasionally being in charge of the household. "Miss Louisa Pettit and I run this institution while the're gone," Ira wrote while his parents were visiting in Rochester.
On May 12, 1862 Ira turned twenty-one and on May 23rd he exuberantly wrote "I ' VE CONCLUDED TO ENLIST!" He traveled to Lockport in preparation for his eventual departure. He found Lockport an exciting place for a young man. "Lockport life is a bully life," he wrote in his diary. He and several other recruits left Lockport on June 20 and headed to Canandaigua for a month of training. From there he spent six months at Fort Independence in Boston, MA. (Unlike many young men in the area, Ira chose to join the regular Army rather than a locally sponsored regiment.) Pettit's regiment headed to Virginia to join the Army of the Potomac in January 1863. He fought at Chancellorsville, Gettysburg and the Wilderness. On his twenty-third birthday, May 12, 1864, Ira sustained a head wound but returned to his regiment on June 2. Later that day he and 12 other soldiers were taken prisoner and transported to Richmond. By June 15 he was in at Camp Sumpter in Andersonville, GA.
Pettit wrote his family that he was a prisoner of war. He fared well until the end of August when he came down with scurvy and diarrhea. Those who were captured with him were transferred to another camp in Late September but Ira was too weak to travel. His condition deteriorated considerably after that and he died on October 18, 1864. He was buried in the prison cemetery, which is now a National Historic Site. His family erected a cenotaph in Greenwood Cemetery in Wilson. A historic marker identifies Pettit's house on Maple Road in Wilson.
Ann Marie Linnabery
Erie Canal Discover Center
24 Church St.
Lockport NY 14094
716.439.0431
CanalDiscovery@aol.com
www.NiagaraHistory.org